Stand with Ukraine. Save peace in the world!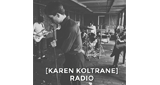 Karen Koltrane Radio
A Karen Koltrane Rádio tem duas careterísticas principais: é livre de comerciais e seus conteúdos musicais são escolhidos pelas duas criadoras do projeto de forma cuidadosa. Passa uma mescla de gêneros musicais, para ouvintes com um gosto musical apurado.
Show more
TOP songs on Karen Koltrane Radio
Karen Koltrane Radio reviews
Information about the radio
A [KK]Radio é uma mistura de muitos estilos e gêneros musicais, cuidadosamente selecionados por seres humanos reais, apaixonados por arte. Você irá ouvir um desfile de estilos: punk, indie, jazz, ebm, rap, mbp etc., andando lado a lado. O que você não irá ouvir é uma lista aleatória, gerada por um computador, interrompida abruptamente por comerciais.

Nossa especialidade é tirar o melhor de cada estilo, indiferente de ser vendável ou conhecido, aqui o que vale é o bom gosto. Isso quer dizer que estamos sempre procurando novidades, então, se tem uma sugestão ou acha que sua banda tem a ver com o estilo da rádio, por favor, entre em contato clicando aqui.

A ideia é levar boa música onde você estiver, afinal é assim que se começa uma revolução.

Estamos no ar desde 2006, sempre buscando novos sons, novos caminhos, mas sem esquecer quem somos e de onde viemos! Nos mantemos fiéis aos nossos ideais de compartilhar boa música e divulgar bandas que não fazem parte do mainstream, mas que são divinas assim mesmo.

Lembrem-se que o fato de usarmos terno e gravata não nos faz alienado, desde que mantenhamos nossa ideologia intacta e o sentido de cooperação e compartilhamento de conhecimento como prioridades. A [Karen Koltrane] Radio é o espaço em que, durante um dia estressado no trabalho, você pode colocar seu fone de ouvido e, por alguns momentos, sentir-se você mesmo.

Um brinde a liberdade!
Radio contacts