Stand with Ukraine. Save peace in the world!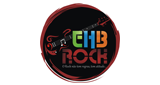 EHB Rock - A Rádio Rock
O ROCK NÃO TEM REGRAS, TEM ATITUDE… Desde sua criação, em 27 de abril de 2010, a rádio EHB Rock – A Rádio Rock se dedicou ao incentivo ao Rock, apoiando artistas já consagrados e abrindo portas para novos talentos do Rock Brazuka.
Show more
TOP songs on EHB Rock - A Rádio Rock
EHB Rock - A Rádio Rock reviews
Information about the radio
Com uma programação exclusivamente dedicada ao melhor do bom e velho Rock n' Roll, somos uma emissora adulta e figuramos entre as primeiras colocadas em meio as rádios qualificadas com perfil voltado para as Classes A, B e C.

Com sede em São Bernardo do Campo SP, atuando para todas as regiões do Brasil e mundialmente através da Internet, a EHB Rock – A Rádio Rock mescla os clássicos do Rock n' Roll as vertentes do Metal, Hard Rock, Thrash, Death, Punk e Rock Brazuka com o lançamento de artistas de nossa arte.
Uma emissora moderna que nasceu para valorizar a nossa Arte e Cultura. Além do melhor Rock, durante as 24 horas do dia, a EHB Rock – A Rádio Rock leva ao ar as notícias, misturando, na dose certa, Rock e informação.

A emissora completou 12 anos de transmissão, trabalhamos, crescemos e hoje somos a maior referência Rock n' Roll tanto para o mercado publicitário, quanto para os artistas consagrados e para os que se revelaram. O mais importante é sermos a referência de qualidade para os milhares de ouvintes amantes do bom e velho Rock n' Roll que angariamos por todo o país.
Este é o foco do nosso trabalho.
Este é o nosso patrimônio.
Radio contacts