Stand with Ukraine. Save peace in the world!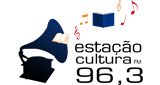 Rádio Estação Cultura FM
Rádio Estação Cultura FM 96,3 Machado- Sul de Minas.
Rádio Estação Cultura FM reviews
Karolayne Dias

29.09.2023

Hoje tem sorteio 🙏🏼🍀🍀🍀🤞🏼

Professora Eliza Silva

10.06.2022

Que bom que vocês estão de volta

Renato Ferreira

08.01.2022

Muito bom seu programa Júlio Cesar,🎆

Danielle Aparecida Franco de Paula

21.07.2021

Danielle de Paula . Ótimo programa estou ouvindo do sitio são Jose bairro papagaio

Maria Heleni . Estou ouvido aqui da Av. Ricardo annoni filho 327- Ap=b . Ótima rádio. Um beijo para jhully

Paulo Roberto Caixeta

01.06.2019

Muito bom o programa. estou ouvindo aqui de Cabreúva. Abraços a todos. Parabéns...
Radio contacts
https://www.instagram.com/radioestacaoculturafm963/