Stand with Ukraine. Save peace in the world!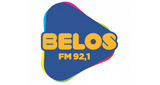 Rádio Belos Montes FM
A Rádio Belos Montes de Seara Ltda. Foi fundada no dia 20 de junho de 1992, sendo a coroação de um sonho idealizado por várias pessoas da comunidade. A fundação da emissora serviu para tornar o município ainda mais independente, já que antes as informações da cidade eram veiculadas por rádios de outros locais.
Show more
Rádio Belos Montes FM reviews
Information about the radio
No início, a Belos Montes operava com potência de 1kw, tendo sua penetração bastante limitada. A partir de 2001, com a ampliação para 2,5kw, a emissora passou a enviar o seu som para boa parte do Oeste Catarinense e Alto Uruguai Gaúcho.
Todos os dias, das cinco da manhã à meia-noite, é possível ouvir a Belos Montes.
Radio contacts
[email protected]
https://www.instagram.com/belosfm/
https://www.youtube.com/user/belosmontes