Stand with Ukraine. Save peace in the world!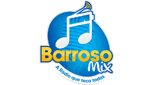 Rádio Barroso Mix
A Rádio Barroso Mix é uma emissora de rádio online dedicada ao jornalismo, entretenimento e a música. Fundada no dia 11/11/2017 as 17:00, a rádio tem seu nome Barroso Mix em homenagem a cidade de Barroso MG e "Mix" por ser uma rádio totalmente eclética musicalmente.
Show more
On the air Rádio Barroso Mix
| | |
| --- | --- |
| Live | VS - Mais Musica Radio Barroso Mix |
| 02:25 | 298 DUR 156 - 05 de Junho Segunda - O que e essencial fazer diante das tarefas |
| 02:23 | VS - Onde Quer que Esteja Voce Esta Muito Bem Acompanhado Radio Barroso Mix |
Rádio Barroso Mix playlist
TOP songs on Rádio Barroso Mix
Rádio Barroso Mix reviews
Information about the radio
"A Rádio Que Toca Todas" é com esse slogan que a Rádio Barroso Mix, vem se destacando na região da zona da mata mineira. Fundada pelo Radialista e DJ barrosense Rhafael Henrique, a rádio lançou um novo conceito de rádio na região, baseada em uma programação musical que combina sucessos dos últimos 20 anos com os novos talentos da música moderna nacional e internacional. Além da melhor programação musical a Barroso Mix emplacou um formato de programas e programetes culturais e jornalístico diferenciado, com conteúdos exclusivos, interativos e com linguagem simples, dinâmica e objetiva, ativando o dia a dia de milhares de ouvintes.
Radio contacts
https://www.instagram.com/radiobarrosomix/
https://www.youtube.com/channel/UCFz7UH_-HR919ANwhaBxW8Q