Stand with Ukraine. Save peace in the world!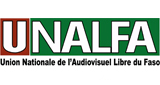 Radio Fasomédias/Unalfa
L'union Nationale de l'Audiovisuel Libre du Faso (UNALFA) est l'association des radios et télévisions privées du Burkina Faso née de la volonté de quelques promoteurs de mettre en commun leur force pour la défense de leurs intérêts communs ainsi que pour le développement harmonieux de leur institution respective. Elle a été mise en place en 1995 conformément aux dispositions de la Loi N° 10 /92/ADP du 15 décembre 1992, portant liberté d'association.
On the air Radio Fasomédias/Unalfa
| | |
| --- | --- |
| Live | Président UNALFA |
| 19:45 | yt1s.io - Flora Paré-Intro (De l'Amour en Bandes Sonores) (128 kbps) |
| 19:20 | MAGAZINE JEUNES WAKAT POUR ELLES THEME FEMMES MALADES MENTALES LES VIOLENCES SUBBIES 16 AVRIL 2023 PAD |
Radio Fasomédias/Unalfa playlist
TOP songs on Radio Fasomédias/Unalfa
Radio Fasomédias/Unalfa reviews