Stand with Ukraine. Save peace in the world!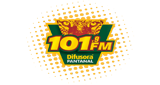 Difusora Pantanal
Campo Grande, 101.9 MHz FM
A Rádio Difusora Pantanal é uma estação de rádio fundada em 1939, localizada em Campo Grande. Esta emissora pertence ao Grupo Zahran e está afiliada à Central Brasileira de Notícias. Seus conteúdos são variados e incluem notícias, esportes, música e entretenimento.
Difusora Pantanal reviews
Ana Paula Do Nascimento

24.03.2021

Alo potencia aqui a paula sou de campo grande minha amada cidade mas no momento estou te ouvindo de Tocantins cidade de Miracema.

Alyfer Wasconcelos

02.01.2021

Top manda um alô pro pessoal da naçao Chevrolet da coronel Antonio aqui é o Alyfer líder de departamento

Ely Mendes Ribeiro

30.03.2020

Estou aqui em Goiania curtindo a Difusora, boas musica, parabens. Um abraço

Jonas Oliveira

24.03.2020

So modao

Muito boa essa radio adoro vc potencia um beijo no seu coração

mt., por demais!

Orlando Bardelli Da Silva

25.08.2019

Q e isso rapaz tooop DEMAIS