Stand with Ukraine. Save peace in the world!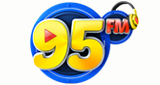 Rádio 95 FM
Information about the radio
Uma grande novidade está no ar! Entra no ar a partir de hoje (07/01/2016), a mais nova emissora de rádio da Bahia, 95 FM. Com uma proposta diferente, qualidade e credibilidade, chegamos para entreter Alagoinhas e toda região Norte da Bahia. Tecnologia de ponta, programação moderna e uma equipe preparada, levaremos a partir de hoje, informação, musica e alegria ao seu dia. Contamos com sua audiência e preferência! Bem vindos a 95 FM, Emissora do grupo JSG.
Radio contacts
EMAIL: [email protected]
https://www.instagram.com/95fmalagoinhas/