Stand with Ukraine. Save peace in the world!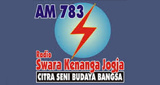 Radio Swara Kenanga Jogja
D.I.Yogyakarta merupakan basis kegiatan budaya dan pendidikan Nasional,sehingga merupakan miniatur Indonesia. Keberadaan kelompok seni budaya di DIY merupakan pendukung utama untuk pengadaan materi siaran. Kondisi tersebut menjadi pendorong bagi pendirian stasiun radio Swara Kenanga Jogja dengan format siarannya yang berbasis pada seni budaya dengan positioning "Citra Seni Budaya Bangsa".
Radio Swara Kenanga Jogja reviews
Kenapa Sekarang tdk bisa streaming lagi ya

Ok

Slamet Subaryono

24.08.2020

Sae sanget, nguri uri kabudayan jawi..

Joss Tenan

Soft listen.., menemani malam ini meski jauh di kalimantan love jogja in memories

mantul....

Satria Bergitar

15.12.2018

mantep karo leyeh-leyeh !!!!
Radio contacts
SMS: 87 738 738 783
Hot Line: 081 804 334 474