Stand with Ukraine. Save peace in the world!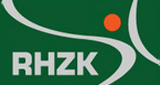 Radio Hrvatsko zagorje Krapina
Krapina, 91.5-104.9 MHz FM
Radio Hrvatsko zagorje Krapina (RHZK) od svog osnutka punu pozornost i dostojan prostor posvećuje zagorskoj glazbi, njezinoj afirmaciji i promičbi. Svoju popularnost sedamdesetih i početkom osamdesetih godina mnogi zagorski sastavi duguju upravo Radiju Hrvatsko zagorje – Krapina i snimkama načinjenim u studiju tog radija.
Show more
Radio Hrvatsko zagorje Krapina reviews
Katoličke emisije "oddaje Pot - i" Putevi - POT - I

10.09.2022

Super radijo. ČESTITAM.

Zvonimir Dijak

11.11.2019

Odlična radio postaja.
Information about the radio
Iako je osnovana kao promotor Krapinskog festivala i kajkavske popevke, pa tako posebnu pažnju posvećuje njegovanju kulturne baštine i kajkavskog izričaja, od samog početka emitiranja kontinuirano izvješćuje o događajima u političkom, kulturnom, gospodarskom i javnom životu Hrvatskog zagorja. Danas, program ove komercijalne radio postaje osmišljava deset stalno zaposlenih djelatnika i desetak suradnika. Posljednjih dvanaest godina Radio je organizator Zagorskog glazbenog festivala Krijesnica koji je do sada iznjedrio 503 nove autorske skladbe, koje glazbenom formom, izvedbom i jezičnim iskazom smjeraju na očuvanje kajkavskog dijalekta i kulturnog identiteta sjeverozapadne Hrvatske. Kvaliteti festivala pridonosi posebice njegov umjetnički voditelj Šef dirigent Tamburaškog orkestra HRT–a, maestro Siniša Leopold.
Radio contacts
Telephone: 049/371-250
TELEFAX: 049/372-068
E-MAIL:
[email protected]
[email protected]
[email protected]