Stand with Ukraine. Save peace in the world!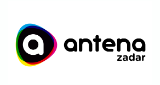 Antena Zadar
Mi smo Antena Zadar i slušate nas na 97,2 MHz u najljepšem gradu na svijetu, putem interneta globalno, te putem svih pametnih uređaja; od računala, tableta, mobitela, televizora… Mi smo nova generacija radija, s novim idejama i ljudima – za novu generaciju Zadrana.
Show more
TOP songs on Antena Zadar
Antena Zadar reviews
Ako moze IN/OUT BAND-ISTINA

Vrlo dobra stanica. Dobra glazba. Pozdrav iz Viñe del Mar, Čile, Južna América.

Pozzz :) Najbolji radio i najljepši grad na obali Jadrana ❤️Zadar❤️ Slavonka,pozz iz Vinkovaca 😍

Odlican. Bez zamjerki

Apsolutno najbolji!

Odličan

Sve 5

Super

Meni je odličan ovaj radio, pored mora online radio stanica, kom nije dobar moze nac bilosto drugo a ne davat jedinicu

Premalo pjesama ovih izvodjaca: Shawn Mendes, Ed Sheeran, Charlie Puth, One Direction, Niall Horan, Louis Tomlinson, Liam Payne, Harry Styles, Zayn Malik
Information about the radio
Nakon šest godina rada našeg portala, naša mlada i kreativna ekipa pripremala se mjesecima i evo nas – tu smo.
Sigurni smo da ćemo postati vaše najbolje društvo jer mi donosimo samo najbolju glazbu svih generacija, informiramo brzo i točno, ali i educiramo i promičemo lokalne vrijednosti i kulturu.
Naš program formatiran je kao gradski servis s najbržim, najažurnijim i najkvalitetnijim informacijama – svakih pola sata.
Kada imate problem, nešto vas je nasmijalo ili samo želite podijeliti s nama nešto, naš besplatni 0800 9720 tu je za vas. Ako ste zapeli u prometu, vidjeli ste prometnu nesreću – nazovite naš besplatni broj prometnog servisa na 0800 9722.
Radio contacts