Stand with Ukraine. Save peace in the world!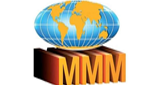 Radio MMMcentro
Movimiento Misionero Mundial en Colombia - Montería. En defensa de la Sana Doctrina en el Ciberespacio a través de Radio MMMcentro
Radio MMMcentro reviews
Darlly Herrera

04.04.2023

excelente música, y programas bendiciones

Es de gran bendición para los oyentes.

reportando sintonia desde santa marta magdalena Dios le bendiga

Mireya Ordoñez

23.04.2020

LES ACLARO ESTAMOS UBICADOS EN EL DEPARTAMENTO DEL QUINDIO SOMOS DEL EJE CAFETERO,,,VEREDA ,QUEBRADA NEGRA ASE PARTE DE CALARCA QUINDIO

Alejandra Valderrama

16.04.2020

Hermosa emisora.

Yurley Montenegro

05.03.2020

reporto sintonia desde la segunda iglesia de cumaral. meta

William Cutiva

15.11.2019

Reporto sintonía desde Bogotá DC gracias a Dios y a ustedes hermanitos Dios los bendiga hoy y siempre

Reynaldo Avalos Quijano

03.11.2019

Dios bendiga grandemente a la iglesia de Monteria Central

Marcelita Piedrahita

20.05.2019

Es un medio de mucha bendición para mi vida espiritual, Dios los siga bendiciendo para tener al aire esos mensajes y canciones para el todo poderoso.

Alejandra Malaver Guzmán

11.03.2019

Dios les continúe bendiciendo. más y más personas se unen cada día para escuchar la bendita palabra de Dios. Esta emisora es un oasis en medio de un mundo tan contaminado de maldad. Sintonizo desde Bogotá. Dios les bendiga.
Radio contacts
[email protected]
https://www.instagram.com/mmmcentro/
https://www.youtube.com/user/MMMCENTRO