Stand with Ukraine. Save peace in the world!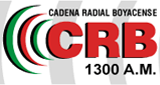 Cadena Radial Boyacense
Cadena Radial Boyacense AM 1300 is a broadcast Radio station from Tunja, Colombia, providing culture, education, recreation, information, News and Spoken programs.
Cadena Radial Boyacense reviews
Abraham Fuya Quintero

16.09.2022

Un saludo especial desde Leeds, U.K. Aquí con el corazón apachurrado añorando la tierrita mientras los escucho. Saludos a todos los Fuyita donde se encuentren.

Fabio Emiro Plazas Figueredo

09.03.2021

Buena noche. Escucho la emisora todo el dia en Barbosa Santander, excelente contenido musical.

Nathaly Rodriguez

28.10.2019

podrian repetir curules por partido en asamblea

Andres Felipe Cuadrado Alfonso

28.10.2019

Podrian decir de nuevo los resultados del concejo por favor.

Fabiana Di Lauro Lagomarsino

23.05.2019

Buen dia, soy de Argentina, por favor podrian informarme en que radio pasan los partidos o al menos informacion de como van estos partidos de los juegos Deportivos Universitarios que se estan realizando esta semana en Tunja

Andrea Benavides Naty

17.05.2019

saludos al diego benavides de avinal de parte de su familia en el alto putumayo

Wilson Adrian Pulgarin Castro

17.02.2019

Desde el retiro antioquia felices con las dos etapas que pudimos disfrutar del tour colombia 2.1

Nelson Sanchez Villamil

10.10.2018

Buena transmisión, felicitaciones, 👍

Jose Alberto Mancipe Rincon

02.05.2018

BUENOS DÍAS, GRACIAS POR MANTENERNOS INFORMADOS TODOS LOS DÍAS.

Luis Alejandro Coy Cetina

01.09.2017

Buena transmisión. Felicitacones mesa de trabajo.