Stand with Ukraine. Save peace in the world!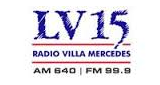 LV 15 Villa Mercedes
Estacion que ofrece la mejor alternativa radial con su programacion noticiosa y de entretenimiento ameno durante las 24 horas del dia, con noticias instantaneas, la informacion de los acontecimientos del pais y el mundo, lo mismo que música, deportes y mas.
LV 15 Villa Mercedes reviews
De buenos Aires los escucho, escucharlos me pone la piel de gallina, es recordar las vacaciones en Villa mercedes de niño junto a mi abuelo Alberto herrera merendando a la tardecita junto a él.. abrazo de la familia herrera

Santos Vera Guayama

30.05.2021

Saludos y admiración a Osvaldo Bianchi por mantener encendida la llama de la cuyanía... Excelente programa...!

Hugo Oscar Ferreyra

21.12.2020

UN PLACER ESCUCHAR ESTA FRECUENCIA EN HORAS DE LA SIESTA, VERDADERA MÚSICA QUE ESTA EN EL RECUERDO DE CADA UNO DE NOSOTROS. FELICITACIONES!!!!

nicolas soplan

18.10.2020

Un abrazo enorme para toda la producción y para mi amigo Pampero, tremendo referente y compañero de nuestra musica criolla, los saludo nuevamente desde Don Bosco, (Quilmes), Nicolás Soplán.

Ricardo Jorge Rolfi

19.08.2020

Espectacular, la escucho desde las 7 hrs hasta las 17 hrs - Las chicas locutoras exelentes

Carolina G. de Guerrero

13.08.2020

¡Genial esta entrevista! Me interesó de que vamos queriendo usar surtidores ¿dónde puedo leer más?

Adolfo Simeón Falcón

04.07.2020

hola! los escucho desde junin pcia de bs as.saludos!

Quique Cerqueiro

14.06.2020

el mejor programa de folclore de la argentina sin ofender a nadie .(quique cerqueiro).

Carlos Pascual Sotto

15.05.2020

Saludos desde Quilmes Bs As, escuchando por primera vez su programa. Esperando los comentarios de mi amigo Santi Alvarez. Saludos

Isabel Hidalgo

29.03.2020

Los saludos los manda Julio Labarta
Radio contacts
Fax: (02657) 424400