Stand with Ukraine. Save peace in the world!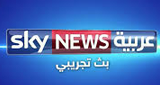 Sky News Arabia
تقدم قناة سكاي نيوز عربية الأخبار باللغة العربية على مدار الساعة وبشكل فوري بتقنية الوضوح العالي HD. وتهدف القناة إلى تقديم الأخبار بشكل حيوي وسريع وموضوعي إلى منطقة الشرق الأوسط وشمال أفريقيا من خلال 10 مكاتب إخبارية في منطقة الشرق الأوسط وآسيا إضافة إلى مكاتبها في لندن والعاصمة الأمريكية واشنطن. وتستفيد قناة سكاي نيوز عربية من مصادر الأخبار والمكاتب الدولية التابعة لها حول العالم لتقديم التغطية الإعلامية للأحداث الدولية.
Sky News Arabia reviews
Boubaker Lakehal

31.10.2023

Excellent

Husna Aida Abdul Karim

07.07.2023

I like listening from Malaysia

👌Very good channel

karem mahmoud ahmed abdel hameed

05.01.2019

Its very inefficient App. It cuts every single minute even after removing the app and reinstalling it . Even after I reported the technical issue and after sending mail to the app support team. Actually Its such an useless app since last update in Dec 2018

Mohamed Hrimeche

02.10.2017

انقطاع في الارسال من حين لاخر.